Random Reviews is a simple collection of equipment, software and consumer reviews for creative people and artists, with really good pictures (click on photos to see hi-res versions where available). All the products are ones that I've purchased and used. Reviews are completely independent and are one of the many arms of CreativeMedia.org.uk..
Fresh coffee review
These coffees are all from Brian Wogan's bean stable. We ground them in-situ (using an antique hand-grinder!) and made them in a steel cafetiere, with a healthy gap between each coffee. We couldn't find a practical way to make all the coffee the same strength.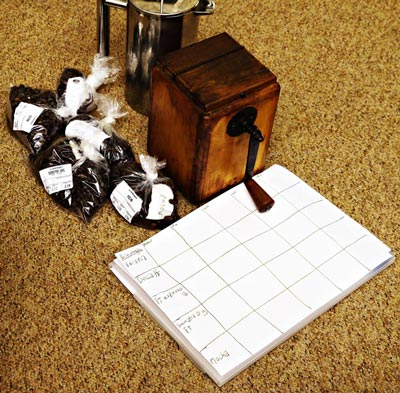 All coffees were ground with an antique grinder!
As I write up the reviews, I'm drinking the Sumatra beans, made in a percolator, less strong than the review brew. It's still a bit astringent/acidic made this way too.
Testers' biographies
AHW
I started drinking coffee at the age of 9 as an act of rebellion against my mother, who likens coffee to crack cocaine! I drink 3 cups every morning before doing anything else. I like my coffee smooth and rich. I despise people who drink coffee with sugar.
BG
I'm not really a coffee drinker. Sometimes I like a weak milky coffee on a cold rainy day. (It was a cold rainy day.)
KH
I like my coffee strong and black and I think anyone who adds milk or sugar to their cup should be disqualified as a taster!
PU
I'm a daily grinder, bean-blender and drinker of coffee (my favourite is to go halves with decaf beans to avoid caffeine problems later in the day.) I mostly drink coffee black but will be trying these with milk too. I'm not at all keen on tea, though I'll occasionally have an Earl Grey or a camomile.
SG
I was introduced to good coffee during long sessions in a recording studio in Birmingham. Instant coffee is not coffee.
The coffees
Verona
AHW
A bit on the bitter side, but it's nicer than the espresso and mocha coffees.
✸✸✸✸✸
BG
It has a savoury smell reminiscent of Marmite (though not the same - we checked!) Very bitter… More Milk! With milk it's quite pleasant.
✸✸✸
KH
This is the proper existential breakfast coffee that goes with a proper old-fashioned filterless Gitanes cigarette. Proper coffee.
✸✸✸✸✸
PU
It reminded me of chillis when I smelt the beans. It has a stronger longer-lating taste than most of the others, but I think it's a little too bitter for me.
✸✸
SG
A progressive coffee: I didn't like it at all at the start, but by the end of the cup I quite liked it.
✸✸✸
Decaffeinated beans
Some of our testers considered this a "hot beverage" rather than "coffee", but they kindly offered to taste it and give their opinions all the same!
AHW
Too acidic; you can taste that it's had quite a lot of "engineering" or something.
✸✸
BG
Tastes of coffee, just like the others.
✸✸✸
KH
I detect a pretentious muddyness.
✸½
PU
Quite drinkable. I'm enjoying it mostly, though it kind of gives me a dry throat, hence only 3 stars.
✸✸✸
SG
This exceeds my expectations for a decaf. There is at least some flavour drowning in the water.
✸✸
Fair Trade Espresso
AHW
Not a huge amount of character. I'd like to try it again made a bit stronger.
✸✸✸
BG
It's too bitter for me when black, but is nice with milk.
✸✸✸
KH
No kick. It should be made stronger than this.
✸✸
PU
Nice. This is my usual daily drink, and it's good black or white.
✸✸✸
SG
This tastes burnt rather than dark roasted.
✸✸
Fair Trade Sumatra
AHW
Bitter, but OK.
✸✸✸½
BG
Too bitter when black, but I liked it with milk
✸✸✸
KH
Good oomph but a touch too muddy. Quite average in flavour.
✸✸✸
PU
Like the decaf, it's a bit acidic and dries out my mouth, which loses it stars. The taste is good though.
✸✸
SG
This one leaves a scum in my cup which is offputting. The taste isn't particularly distinctive or special.
✸✸
Mocha
AHW
Nicer than the espresso It has a full-bodied flavour, a nice bitterness in the back of the muth and a rounded taste overall.
✸✸✸
BG
Bitterer than the espresso, but that may be because it's been made stronger. With milk it's nice enough.
✸✸✸
KH
This one has more oomph than the espresso, but not enough oomph. Not bad though.
✸✸✸✸
PU
Smooth and not too harsh. Nicer with milk.
✸✸✸✸
SG
This has a deep, round flavour which grows with every sip.
✸✸✸✸
End Notes
SG
As an everyday drinker of real coffee, in a real-life drinking situation, I suspect I wouldn't have been able to spot the difference between any of these varieties of coffee.
KH
Tester BG is living (yawning) proof that coffee doesn't wake you up.
Coffee science
One of our number had been informed that bitter coffee can be de-bitterised with the addition of a little salt. So we filled three cups with the coffee widely considered to be the bitterest (Verona) and left one salt-free, one slightly salty and one with a bit more salt. The two blind-tasters who were willing to take the challenge (and who weren't coffee-ed out already!) both correctly identified the different mixtures and agreed that the saltiest of the three really did taste less bitter. Unfortunately, knowing there is salt in the coffee makes it too easy to taste the salt in every mouthful!
---
Be the first to comment on Coffee beans reviews