Random Reviews is a simple collection of equipment, software and consumer reviews for creative people and artists, with really good pictures (click on photos to see hi-res versions where available). All the products are ones that I've purchased and used. Reviews are completely independent and are one of the many arms of CreativeMedia.org.uk..
A real Fender from the 1980s!
I bought this interesting Strat second hand in 2001, after finding it was much nicer to play than the Squier Strat I had at the time. It's a good quality working guitar for a musician wanting a real Fender
I'm no guitar collector or expert, just a player, so these details are what I can find out based on the serial number (E768184) and quite a lot of online research. According to https://en.wikipedia.org/wiki/Fender_Contemporary_Stratocaster_Japan, it's a 1987 Fender Contemporary Stratocaster E Series.
In 2019 I decided to sell it because someone drew my attention to what a desirable guitar it is, which made me think about selling it in order to fund the purchase of a Variax (which suits my musical requirements more now.) I've adapted this page from my ebay listing.
Details
I had the pickup nearest the bridge replaced with what I think is a humbucker pickup. The locking tuner on the headstock had been removed before I purchased it, and the whammy bar was missing too. There seems to still be a thread in the hole. I can't tell you what other changes the previous owner(s) may have made to the guitar, but I do know that it's nice to play and everything on it works fine (switches, knobs, pegs, pickups, sound output)
I've made this video showing the features of this instrument. Look at the big pictures below for a close up view. Note that I've made a few mistakes in the video which are corrected in the description, eg the tremolo system is a stock one - I couldn't believe that the simple spring-and-screw system wasn't home-made!
Further specs, based on what I can find out about the serial number. I hope these details accurately match the guitar I have, but I'm not able to fully authenticate all the woods and components.
Body is probably American Basswood
Neck is Maple
Fingerboard is Rosewood
Five position switch and two position coil splitter switch (I think)
Tone knob with centre position
Volume knob.
Pearl finish with black scratchplate.
Pickups: original single coil and humbucking pickups, and a new humbucking (I think) pickup.
Tuning pegs by Gotoh.
D profile neck with a 12" radius.
Microtilt neck angle fine adjustment.
22 medium jumbo frets.
4 bolt neck plate.
11 screw pickguard.
Fender "made in USA" tremolo system. It looks like the "2500 Kahler fulcrum tremolo"
25.5" scale length.
Weight: close to 3430g
Huge pictures
Open, zoom in and have a good look around.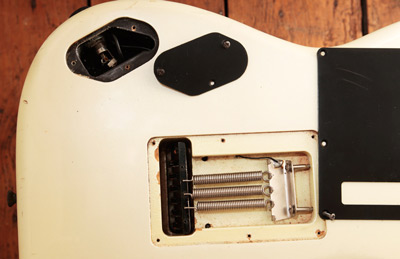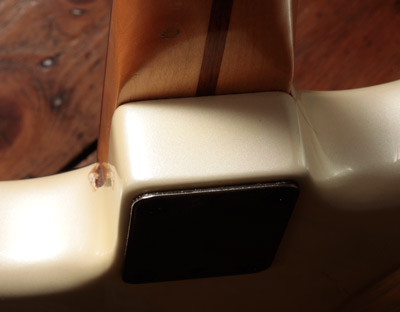 ---
Comments
All comments are moderated so yours may take up to a few days to appear. Abusive or irrelevant comments, malware and spam won't be published.