Free downloadable Christmas Carols Songbook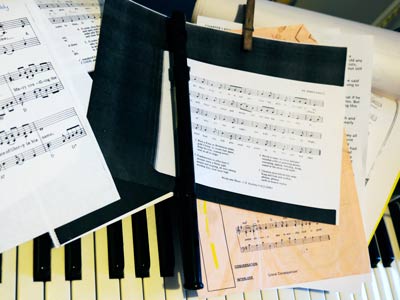 Has your Christmas sing-along turned into a total mess? Are the first verses of each song spoilt by a frantic shuffling of papers? Printing out the same song sheets every year?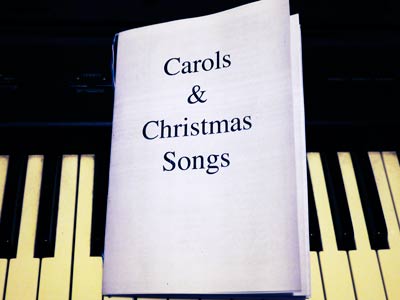 Download and make this proper two-sided xmas carols booklet (
see song list
below) for free in either A4 or US Letter paper sizes, and use again next year!
What you will need
11 sheets of A4 or US Letter sized paper per booklet
A "duplex" printer - one that can print on both sides. Manual duplexing is possible if you print odd pages only, then print even pages on the other side, but it's difficult! Or you can print out the sheets single-sided and use a duplexing photocopier to make the booklets.
A long-arm stapler (with a reach of 15 cm / 6 inches). Or use ribbon or string, or see tips below for small staplers.
What to do
Right-click to download either the A4 sized FREE 38 CHRISTMAS CAROLS BOOKLET PDF FILE or US Letter size FREE 38 CHRISTMAS CAROLS BOOKLET PDF FILE.
Print all the sheets out in duplex mode, using "Short Edge Binding" mode. They'll look like they're in a crazy jumbled order at the moment.
Lay down the pile of sheets in the order it printed so the front cover is face down on the bottom and pages 22 and 23 are face up on the top.
Fold in the middle so the front cover is on the outside and pages 22 and 23 are in the middle.
Unfold again, turn over and staple on the fold (so the sharp bits of the staple are inside the booklet.) Hey presto! All going well, you have made a proper Christmas song book!
If this has saved you money and time, why not make a donation (below) towards the cost of my bandwidth?
Hints and tips
Print page range 1 - 2 to start with, to make sure your printer's double-sided mode is set right. If you've used the wrong double-sided mode, the backs of the pages will be upside down. Once you're sure you've got the printer set up right, you can print the rest without wasting lots of paper.
Why not print the first two pages on a thicker paper to make a proper cover?
If you only have a small stapler, you can fold it out flat and use it to push the staples through, then bend them over by hand. Make some holes first with a drawing pin. But TAKE CARE not to staple yourself!
Use something made of hard plastic or ceramic (like a mug or saucer) to press the fold. Metal objects might damage the paper.
If you're printing more than one booklet at once, use "collation" mode to group pages together into booklets. Then you can fold and staple a complete booklet while the next one prints. If you're not sure about collation, just print a single copy, then send another copy while the first one prints, and so on.
Optional donation
If this has saved you a lot of time and effort (creating a booklet takes a lot of both!), why not make a PayPal donation to encourage more projects like this. This booklet file was compiled and created by CreativeMedia.org.uk, a small UK media and web production business.
While you wait for the printer, here's modern Christmas carol I wrote
---
The 38 songs in the booklet
Angels From The Realms of Glory
Away In A Manger
Born In The Night
Calypso Carol
Coventry Carol
Ding Dong Merrily On High
God Rest You Merry, Gentlemen
Good Christian Men Rejoice
Good King Wenceslas
Hark The Herald Angel Sing
Have Yourself a Merry Little Christmas
Here We Come a-Wassailing
In The Bleak Mid-Winter
I Saw Three Ships Come Sailing In.
It Came Upon The Midnight Clear
Jingle Bells
Joy To The World
Little Donkey
Love Came Down At Christmas
O Come All Ye Faithful
Oh Come Emanuel
Oh Little Town Of Bethlehem
Once In Royal David's City
Past Three O Clock
People Look East
Santa Claus Is Comin' To Town
See Amid The Winter's Snow
Silent Night
The Angel Gabriel
The First Noel
The Sussex Carol (On Christmas Night)
The Twelve Days of Christmas
Walking in a Winter Wonderland
We Three Kings
We Wish You A Merry Christmas
What Child Is This? (Greensleeves)
While Shepherds Watched
White Christmas